Tea masters
In this article, I'd like to introduce two great Tea masters:
Ikkyū (一休) and Rikyū (利休).
Have you noticed their names are quite similar?
Yes. Both finish by Kyū (休) which means repose, rest, break etc.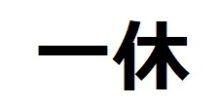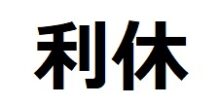 Kyū (休)  is the word greatly esteemed in the Zen world.
As you would wisely infer from this fact, these two tea masters are both influenced by Zen.
Moreover, Ikkyū was a Zen priest.
As I mentioned in the page of Tea, tea itself has been cultivated under the influence of Zen.

Ikkyū is a master of Murata Jukō(1422-1502) not only of Tea but also Zen. 
Ikkyū was a son of Emperor Go-Komatsu and his favorite young noblewoman.
As an illegitimate child, he was sent away at the age of six, and began to train as a Buddhist monk.
At the age of 25, Ikkyū heard a crow calling in the dead of night, and at that instant, achieved enlightenment. 
The appearance of Ikkyū was far from what was expected for monks. He would dress in rags, carry a wooden sword, and play the shakuhachi flute.
In addition, he had no qualms about breaking Buddhist laws, partaking meat, alcohol, and pleasures of the flesh.
At the same time, he remained a consistently harsh  critic of the corrupt world of Zen.
Because some high-ranking priests cloaked themselves in luxurious garments and pious expressions, but in reality they paid scant attention to Zen spirit.
However, at the age of 81, he became a head priest of Daitokuji by order of the emperor.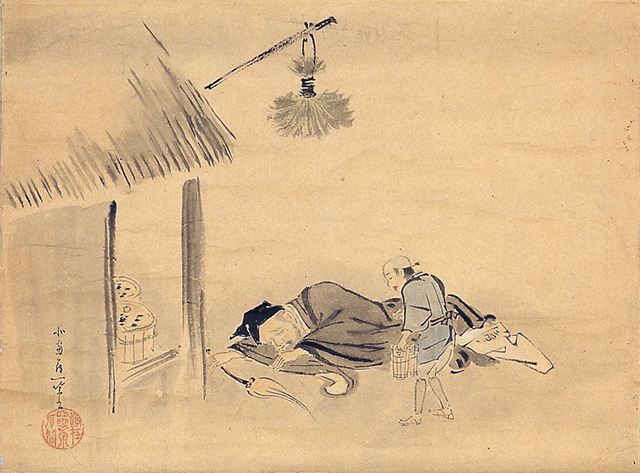 (Hanabusa Itchō "Ikkyū Osyō", owned by Itabashi museum)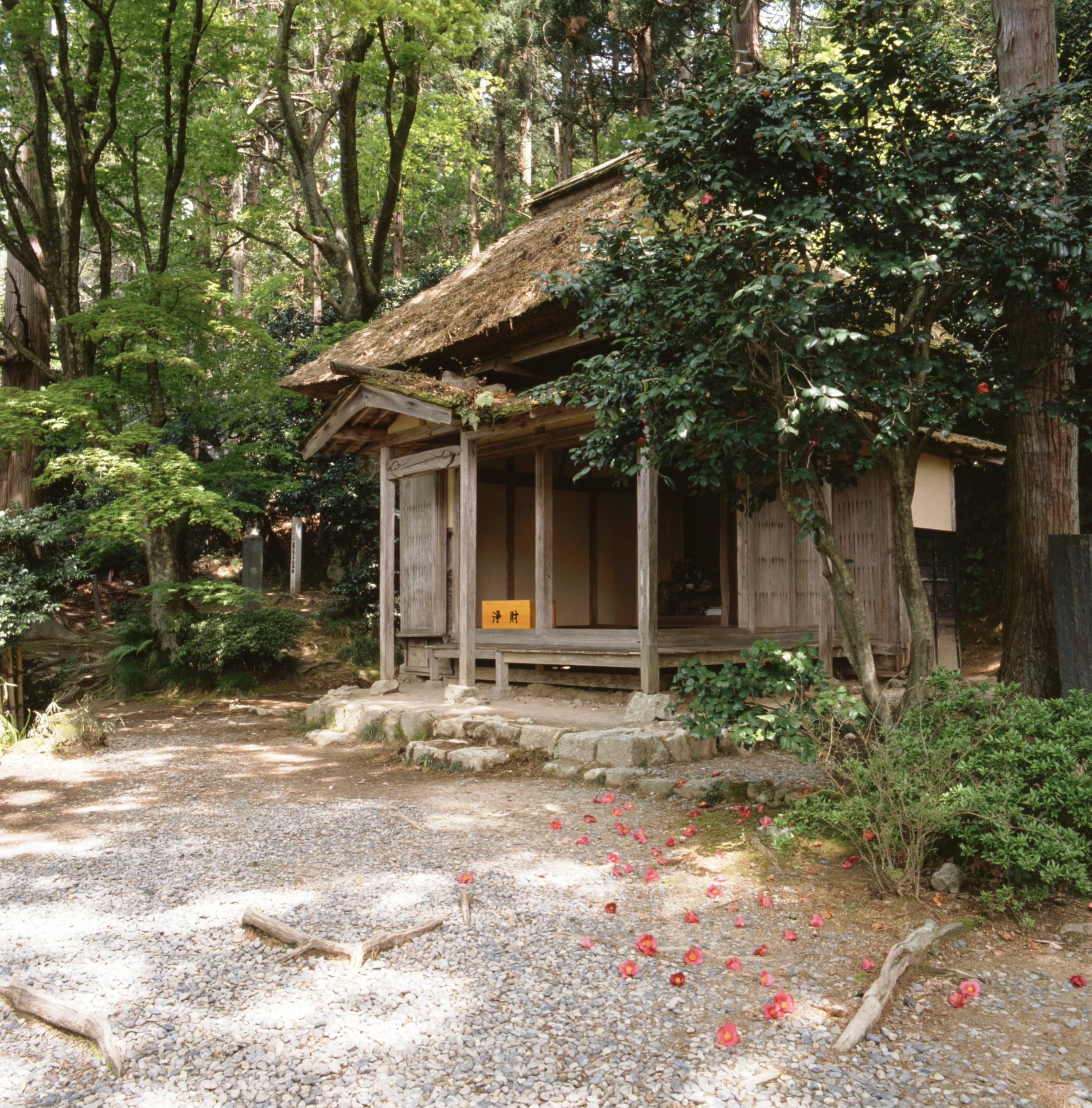 Hermitage of Ryokan
Ikkyū is what we call, one of the three most popular monks.
These three were all very erudite, but always stood against "power".
The three is as mentioned below:
1) Ikkyū (1394-1481)
Ikkyū is well known for his acid wit. 
2) Takuwan (1573-1646)
Takuwan is considered as an inventor of pickles called Takuwan.
3) Ryōkan (1758-1831)
Ryōkan was always a mendicant priest. When he won nothing, he ate nothing. When he gained too much, he gave the excess to the poor. 
Japanese people like to choose three magnificent things.
 (for detailed information 
⇒ Three magnificent things)
Unlike height or length, there are no objective standards regarding beauty or popularity.
Therefore I have to confess that the above three monks are chosen based on my preference.
In my opinion, the founders of Buddhist sects such as Kukai (774-835), Hōnen (1133-1212), Shinran (1173-1263) are too great to attract the sympathy of the common people.
As I mentioned above, Ikkyū's disciple is Murata Jukō.
Subsequently, his spirit was inherited by Takeno Jōō and his disciple Sen no Rikyū completed "Wabi-cha" as an aesthetic and spiritual art form of tea ceremony at the end of 16th century.
Rikyū was born in 1522 in Sakai city which used to be a free city governed by a council of 36 wealthy merchants and boasted the culture of the highest level in those days.
Soon he became known as a pre-eminent tea master from around the age of fifty.
Firstly he was a tea master for Oda Nobunaga and after his death in 1582, he served Toyotomi Hideyoshi.
However, Rikyū was not just a master of tea; he intimately involved himself in politics of Toyotomi's regime.
When a feudal lord visited Hideyoshi's brother named Hidenaga, Hidenaga told him,
"Consult your private matters to Rikyū, and public ones to me".
But, after the death of Hidenaga, the situation surrounding Rikyū abruptly changed.
Rumors blaming Rikyū for treachery against Hideyoshi grew increasingly persistent and finally Hideyoshi ordered Rikyū to commit ritual suicide (Hara-kiri) on the unreasonable ground that he had installed a wooden image of himself at the main gate of Daitokuji temple.
On febrary in 1591, Rikyū followed this outrageous order from Hideyoshi without making any explanation.
Today, we don't use the word "wabi-cha" so often in our daily life.
We prefer to call it 茶道 Sa-dou which literally means "the way of tea".
We love to add the word "道 dou/way" at the end of some practices to extract something mental or spiritual, such as 茶道、華道 (ka-dou: the way of flower arrangement) 、武道 (bu-dou: the way of martial arts).  
For detailed stories about 茶道 Sadou, visit here
⇒Kuchi-kiri (tea ceremony)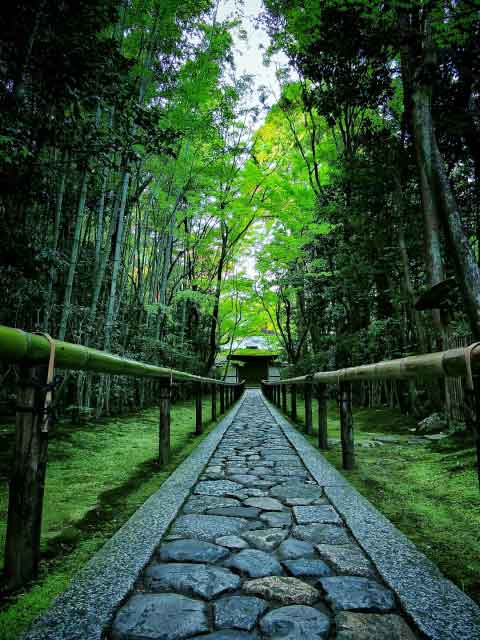 Daitokuji