Samurai and Miso
In Japan, many people love the history of the civil war period which lasted about a hundred years from the 15th century to the 16th century.
Probably it is because of the lifestyle of Samurais who were always confronting life or death matters.
Their vivid lifestyle never bores us. 
When we talk about the Samurai during the civil war period, we can never forget the important role Miso has played in their lifestyle. There was an inseparable bond between Samurai and Miso. 
Because the high nutritional value of Miso has attracted Samurai in power (Please refer to the Miso page).
Whenever we talk about the strong relationship between Samurai and Miso, we mention Takeda Shingen, Date Masamune, and Tokugawa Ieyasu. 
Among the above three, I'd like to start from Takeda Shingen.
Because the reason he stuck to Miso fabrication was far more serious than the other two. 
It was the lack of salt. 
Although Japan is an island country, his territory (today's Yamanashi and Nagano prefecture) did not face the sea.
As a result, salt which was very precious at that time was far more precious here than other regions.
As I mentioned in the Japanese salt page, to keep salt in the protein is the best way to preserve it.
That is to say, making Miso using precious salt.  
Before the time this effect was scientifically testified, Takeda Shingen fully understood this mechanism.
 To realize his Miso making project, Takeda Shingen encouraged the farmers on the roadside of his military expeditions to cultivate soybeans and produce Miso. Then, he always bought them at fairly handsome prices.
Maybe this is one of the reasons why he is still very popular in the regions he used to govern.
In fact, this project brought him not only victories in wars, but also an industry in his territory which was called Kai (today's Yamanashi and Nagano prefecture).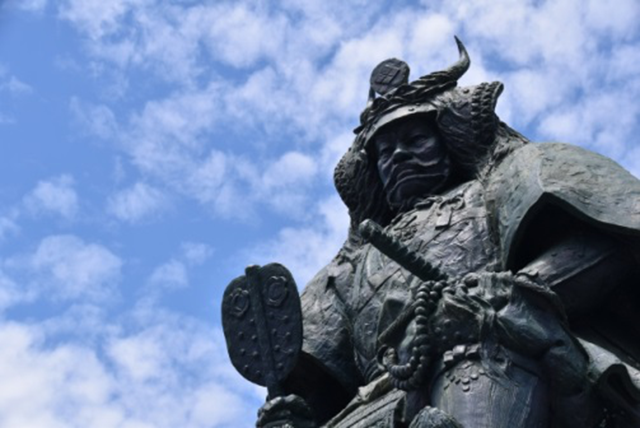 Date Masamune is well known for his huge storehouses of Miso (Miso- gura).
As well as Shingen, he always bought a quantity of Miso from farmers and merchants.
It was mainly to prepare for the wars.
Thanks to Miso of good quality in abundance, samurais following Masamune always fighted very bravely.
Thus, he formed a very strong army.
Unfortunately, he did not succeed in unifying the country (another Miso lover, Ieyasu, fulfilled it).
But the system Masamune established to gather Miso from all over his territory brought a big business to his descendants.
Later, they sold Miso to Edo (today's Tokyo) in good quantity and earned huge amounts of money.
Incidentally, he governed the region of today's Miyagi prefecture.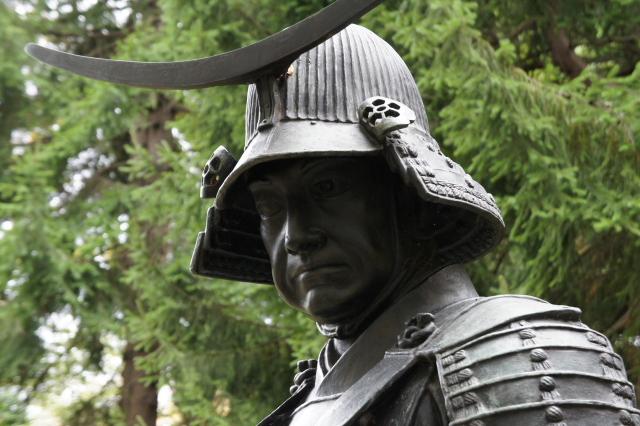 Ieyasu is also known as a great Miso lover and he always encouraged his vassals to eat a lot of Miso.
For instance, when he invited guests, including aristocrats of high rank, he served quite often a series of dishes cooked with Miso.
Likewise, among the offerings from feudal lords, Ieyasu's most favorite was the meat pickled with Miso. 
As a side note, at that time, samurais ate meat frequently. But gradually they began to avoid eating it under the influence of Buddhism.
Ieyasu and Shizuoka
No one doubt that Tokugawa Ieyasu is a history maker in Japan. Without him, Japanese history must have become totally different.
He completely ended the civil war period which lasted from the end of 15th century to the end of the 16th and established Tokugawa Shogunate in Edo (today's Tokyo).
Surprisingly, this Shogunate lasted for around 260 years (1603-1867).
Although he was born in Okazaki (today's Aichi prefecture), he spent quite a long time in the Shizuoka prefecture.
From the age of 6 to 17, he lived in Sumpu (today's Shizuoka city) as a hostage.
After going back to Okazaki, he governed there as a feudal lord for several years.
Then he constructed his castle at Hamamatsu and Sumpu (both in Shizuoka prefecture).
In 1607, he handed the Shogun status to his son Hidetada and moved again to Sumpu.
In Sumpu, he stayed until his death in 1616.