Japanese Zen
Zen is a sect of Buddhism that came from China in the late 12th century. 
After its introduction, it soon became favored among the dominant military class of Samurai. Because they valued silence, self-control and simplicity which Zen repeatedly emphasizes in their teaching.
While believers in other sects of Buddhism stressed sutra recitation or invocations, Zen seekers try to achieve enlightenment through Zazen. 
As you may know, Zazen is a spiritual formation born in India.
In the Zazen, the practitioner sits cross-legged with perfectly straight back and slightly opened eyes and he breathes regularly. Breathing is very important in Zazen.
This meditation consists of an internal communication with oneself.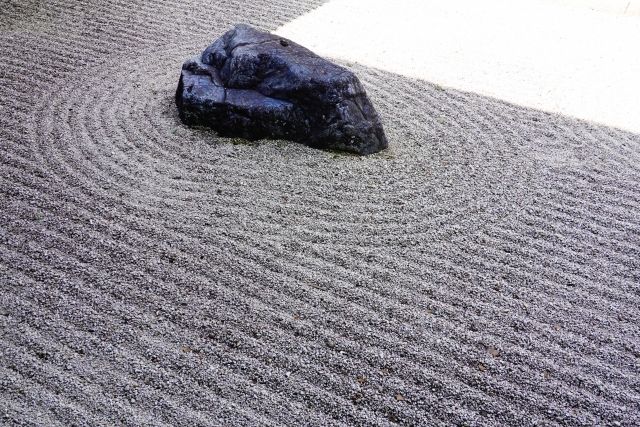 To define something is always difficult. In particular, the elevated and high minded things annoy us.
Therefore, it is almost impossible to define Zen. But let me introduce two definitions I love: "communication without words" and "expression without languages".
Maybe these definitions help us understand the reason why Zen is often considered as a philosophy rather than a religion. In the 14th century, cultural activities such as tea ceremony, gardening art or painting have developed among the monks of Zen. Since then, Zen has had a huge influence on Japanese thought and culture.
The best way to practice Zazen and touch Zen spirit is to stay in Zen temple (Dojo of Zen)  in Japan.
Therefore I'm happy to introduce you to some Zen temples. The followings accept us openly and offer Zen practice together with accommodation and meals.
BOGETSU-an. 
Located in Koshu city, Yamanashi prefecture, the BOGETSU-san belongs to ERINJI, a family temple of Takeda Shingen.
By staying in this temple, you can experience Zazen lead by Japanese priest, traditional tea ceremony, Japanese vegetarian food.
Let's release your mind and detox your body.
Nisonin Shukubo Entsoki
Located in Nagato city,  Yamaguchi prefecture, Nisonin Shukubo Entsoki is an accommodation facility of Nisonin which is famous for its five-ringed pagoda.
Surprisingly, this pagoda is said to be the tomb of Yang Geifei. As you may know, she was a well known beauty of Tang Dynasty in China (maybe one of the three most beautiful women in history).
Zen- Kappa Dojo
Zen-Kappa Dojo locates on the hillside of Gosikidai (Takamatsu city, Kagawa prefecture). This Goshikidai is a plateau of 400 meters above sea level and belongs to the Seto Inland Sea National Park.
In addition, this place is known as the producing area of sacred stone called  "sanukites" .
Temple Stay Seizanji
Seizanji temple locates on top of a hill in the center of Tsushima, Nagasaki prefecture.
As a result, the temple commands a splendid view.
Seizanji temple offers travelers of the world to share their everyday lives. So you can experience the traditional aspect of Japanese culture in everyday styles.