Three magnificent things
In Japan, people often talk about three magnificent things.
The number three is special for  many people  all over the world.
Japan is no exception.

1. Mountains
Firstly, we talk about mountains quite often.
As Japan is a very mountainous country (about 70% is covered by mountains), mountains are a familiar existence for Japanese.
Mountains bring us countless blessings; fruits, mushrooms, wood, waters, etc.
Therefore, we often consider mountains as Shinto gods

Three highest mountains:

Fuji (Shizuoka /Yamanashi)  3,776 m
Kita (Yamanashi)  3,193 m
Hodaka (

Nagano

/ Gifu) 3,190 m 
Three most famous mountains:
 Fuji (Shizuoka /Yamanashi) 3,776 m
Tateyama (

Toyama

) 3,015 m
Hakusan (Ishikawa /Gifu) 2,702 m 
You might find another three most famous mountains in Japan.
Because rankings based on fame or popularity are always changeable.
Members, as well as their ranks, can change according to the situation.
That is, transience of the world.
However, one thing is everlasting: Mt.Fuji occupies the first place. 
With the height of 3,776m, Mt.Fuji is the highest and most majestic mountain in Japan.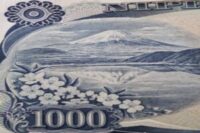 1000 yen bill
2. Lakes
Secondly, lakes.
Above is a photo of Mt. Fuji reflected on the lake. 
In Japan, this type of photo is called Sakasa-Fuji (literally, inverted Fuji) and very popular.
You can find it even on the backside of a 1,000 yen bill. 
Three biggest lakes: 
Biwa(Shiga)  670.4 km²
Kasumiga-ura(Ibaraki)  220 km²
Saroma(Hokkaido)  150 km²
Three deepest lakes:
Tazawa(Akita)  423 m
Sikotsu(Hokkaido)  363 m
Towada(Aomori /Akita)  327 m
3. Rivers
Thirdly, rivers.
I'd like to finish the topic of three magnificent things by introducing the three longest rivers. 

Three longest rivers:
 Shinano (Niigata / Gunma /Nagano *here the river is called as Chikuma)
⇒367 km
Ton

é

 (Ibaraki /Tochigi /Gunma /Saitama / Chiba / Tokyo /Nagano)
⇒322 km
Ishikari(Hokkaido)
⇒268 km 
As you might know, long rivers flow across many prefectures, sometimes changing their name.
For example, the longest river, Shinano, is called as such in Niigata and Gunma prefectures.
But in Nagano, it is called Chikuma.
Why doesn't the Tone change its name?
On the other hand, please pay attention to the Toné river.
It flows across 7 prefectures.
But the Toné doesn't change its name.
Why ?
Because it was always under the control of the Tokugawa Shogunate.
It was Tokugawa Ieyasu and his descendants who accomplished many flood prevention projects on the Toné river which was a river of rampage and overflowed quite often.
How dare you call it by another name?