Sumo and Shinto
Do you like Japanese Sumo? 
If you like Sumo, I recommend you to understand the close relationship between Sumo and Shinto.
Because Sumo matches become more and more interesting by appreciating the influence of Shinto on Sumo.
Strong Sumo wrestlers consecrated their strength to the gods at shrines.
This is the beginning of Sumo.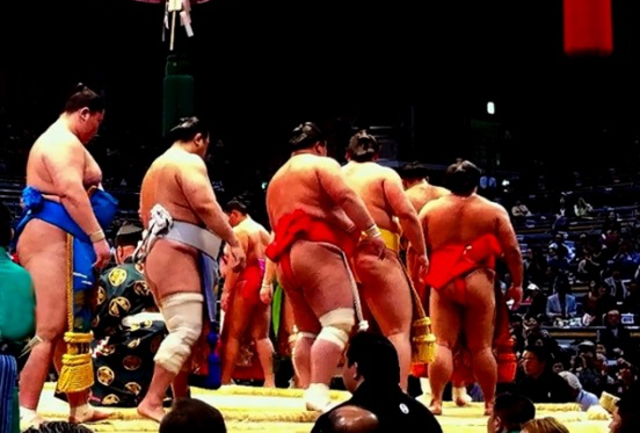 Briefly defining, Sumo is a match between two enormous wrestlers.
The Sumo takes place inside a circle separated by Shimé-nawa called "Dohyo". 
If one of the wrestlers puts a foot outside the "Dohyo" or touches the ground with any part of the body except the sole, he loses the match.
We call each Sumo match Torikumi.
From the moment the wrestlers enter into Dohyo until they withdraw, you can appreciate various kinds of rituals and conventions which make Sumo the Sumo.

We call these wrestlers Rikishi, which literally means powerful Samurai.  
As you might already know, Sumo wrestlers have a peculiar appearance.
Firstly, their physique.
They are all fat. Although very fat, they move very adroitly. This contrast always fascinates us.
Secondly, their costumes.
They wear only a special loincloth called "Mawashi" which is 9 meters long. It is made of satin and never washed (only hung out to dry). Without washing, they change Mawashi every year.
Thirdly, their hairstyle.
They all have long hair and make a topknot called Ma-gé.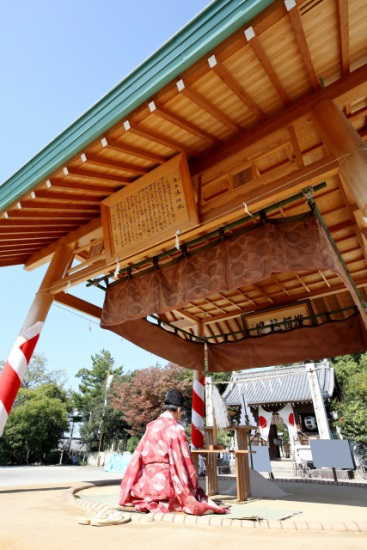 As I mentioned in the page of Rice and Shinto, Shinto is the indigenous religion in Japan.
It is said that Shinto gradually emerged at the dawn of Japanese history and crystallized itself as a system of  imperial religion maybe around the 5th century. 
As a result, it has neither a specific founder nor any sacred Scripture. 
According to Shinto, gods live in everything in nature.
What is emphasized the most in Shinto is purification.
That is why you find a water basin in front of the main shrine to wash your hands and rinse your mouth (but, don't drink it).
As I mentioned in the salt page, salt is also closely related with the thought of purification.
We've believed that salt has a special power to purify the objects by driving away evil spirits.
Water and salt.
These two play an important role in Sumo matches.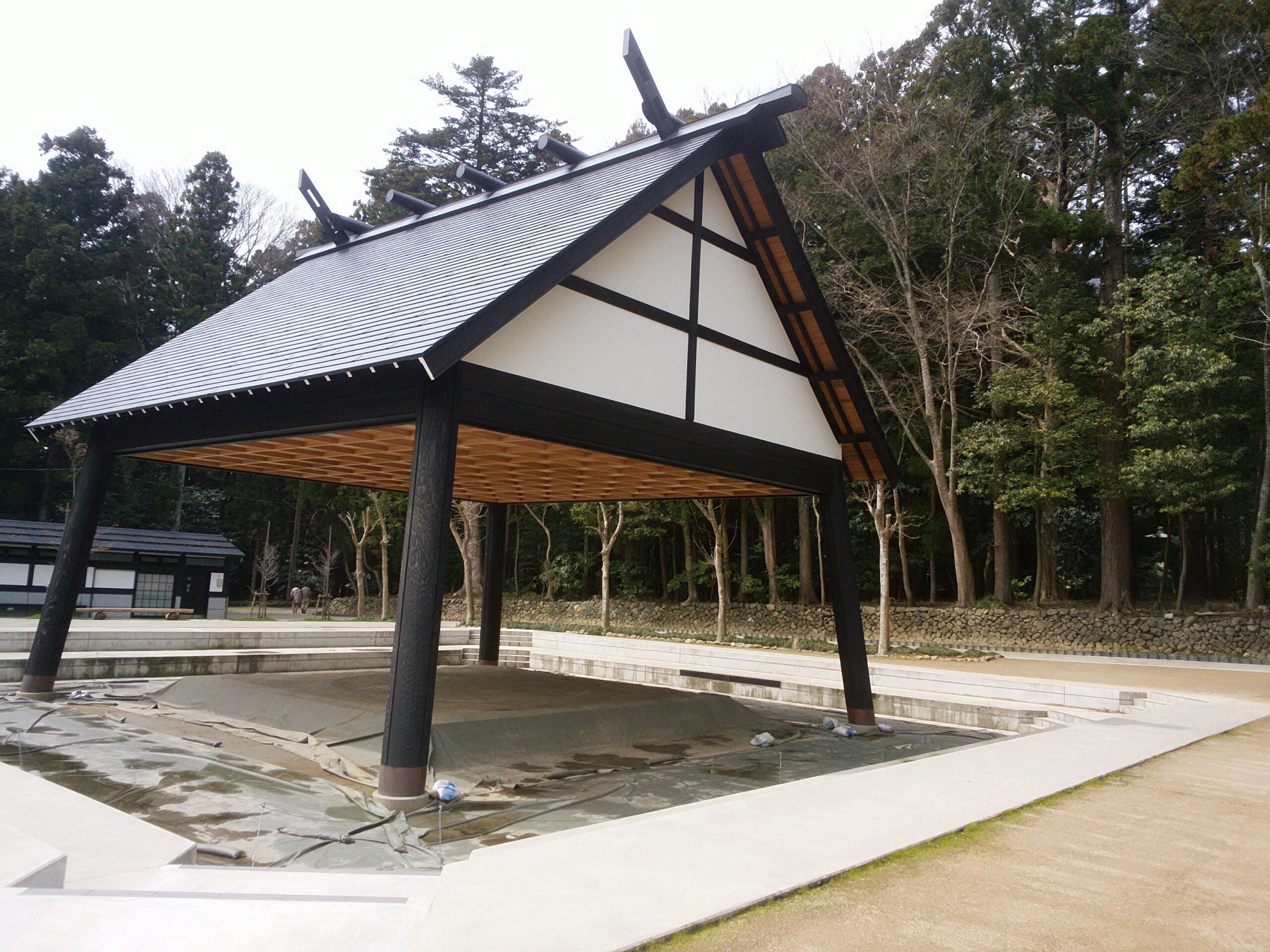 Shimenawa
When we discuss about the relationship between Sumo and Shinto, you cannot forget the existence of Dohyo.
Originally, Dohyo was a circle surrounded by rice-straw sacks filled with earth.
But gradually Shimenawa came to be used instead of sacks.
As I mentioned in the page of Rice and Shinto, you can find many Shimenawa in Shinto shrines.
According to Shinto, Shime-nawa separates the sacred domain from the terrestrial world and drives away evil spirits.

Roof of Dohyo
Next, I'd like to explain about the roof of the Dohyo.
In old times, they built Dohyo outdoors (as you can see in the photo). 
So they had to cover the top to ensure fair matches even in rainy conditions. Even today you can find Dohyo constructed outdoors. In these cases, the roofs fulfill their original purpose.
But you can also find the roofs even in the stadiums which already have sturdy concrete roofs.
In these cases, Dohyo roof (which we call grand roof) is a vestige of tradition which makes Sumo the Sumo.
Inward of Dohyo
Finally, let's learn about the inward of the Dohyo.
There you can find 6 sacred things. That is, kaya nuts, washed rice, chestnuts, kelp (Kombu), dried cuttlefish and salt.
All of them come from Shinto.
According to Shinto, these things protect the Dohyo from evil spirits by converting them to good luck.
2) Sumo and Emperor
In ancient times, they dedicated Sumo to the god(s) to pray for a good harvest.
Moreover, they conducted Sumo as a ritual to predict the will of the god(s) by the outcome of each match.
Interestingly, we know that the origin of present Sumo was "Sechie Zumo" conducted in front of the Emperor as a ceremonial show. 
The Imperial family are well known Sumo lovers.
Even today you can find the emperor and the empress in Sumo stadium quite often. 
As the last note, I'd like to add the fact that the Emperor is considered to be the Shinto priest of the highest rank.