Rice and Shinto
Rice and Shinto are closely related to each other.
According to a Japanese legend which forms a platform of Shinto, the Sun Goddess, Amaterasu sent her grandson named Ninigino-miya from heaven (Takamagahara) to Japan.
Amaterasu ordered him to govern there. 
At the same time, she gave him rice ears (Ina-ho) to grow in Japan and nourish the people living there.
Supported by this story, rice has been considered as a sacred plant and has played an important role in Shinto since ancient times. 
By the way, the oldest Japanese chronicle tells us that this Ninigino-miya is the great grandfather of the first emperor Jinmu.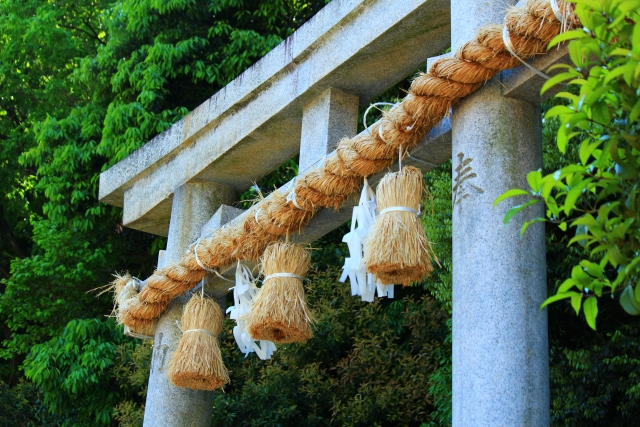 Shinto is the indigenous religion in Japan.
It is said that Shinto gradually emerged at the dawn of Japanese history and crystallized itself as a system of  imperial religion maybe around the 5th century. 
As a result, it has neither a specific founder nor any sacred Scripture. 
According to Shinto, gods live in everything in nature.
Therefore, everything in nature could become gods.
As I mentioned in the Tosho-gu shrine part of Shizuoka tour, great personages become gods after their death to  protect the areas related to them.
Shinto and Purification
What is most notable in Shinto is its emphasis on purification.
Shinto encourages us to purify ourselves through some methods.
1) by water
In front of the main shrine of Shinto, you find a water basin to wash your hands and rinse your mouth.
Washing hands with a ladle of water represents purification from the dirt of everyday life.
You could observe this custom also in tea ceremonies.
< How to use water basin>
1. Take a ladle and fill it with water.
2. Pour water on your left hand and then, right hand
3. Make a scoop with your left hand and pour water in it
4. Rinse your mouth with this water (but, don't drink it)
5. Pour water again on your left hand
6. Tilt the ladle to make the rest of water flow through the handle (this is done to purify the handle) 
2) by salt
As I mention in the Salt page, salt is also closely related with the thought of purification.
We've believed that salt has a special power to purify something by driving away evil spirits.
3) by Saké
We believe that Saké has strong power to please gods and purify the land.
That is why Shinto priest sprinkles Saké in Shinto ceremony.
As I mentioned in the Saké page, Saké is made from rice and closely related to Shinto.
Coupled with the trance effect it brings, Saké has been considered as a sacred drink.
After each harvest, we have many festivals giving thanks to gods and in these festivals there are rites to dedicate Saké to gods.
After each rite, people gathering there share the Saké together with the blessing from gods.
In addition, in the precinct of Shinto shrine, you can often find Saké barrels dedicated to gods.
Their appearances are rich in variety and look very beautiful.
However, you cannot taste the Saké inside of them.
Because they are empty.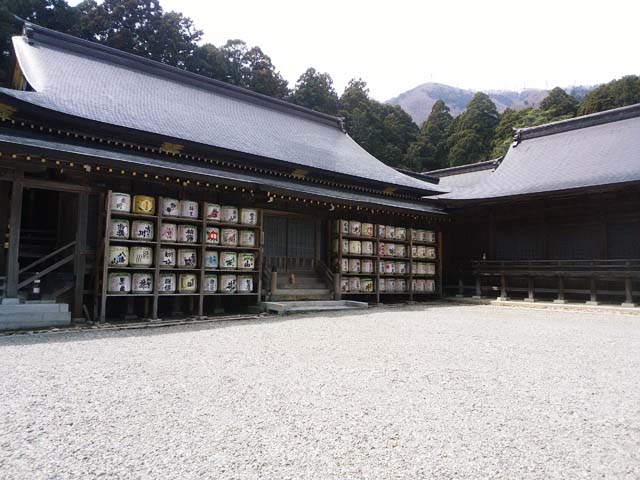 Saké barrels
Mochi is a rice cake made from sticky rice.
According to the most supported theory, the sticky rice came to Japan in the late Jōmon period (10,000 B.C.- 300 B.C.) when people deeply believed that all the marvelous things were gifts from gods.  
Therefore there is no doubt that they offered Mochi to the gods in special ceremonies.
Among the customs to offer something to gods, what has been kept very faithfully until today is the custom of Kagami-mochi.
Kagami means mirror.
Mirror has been considered as an object of worship which represents the Sun Goddess Amaterasu since ancient times. Because it reflects the light and shines as the Sun itself.
It is quite natural that people began to make mirrors with Mochi at New Year and dedicate it to gods, especially to the Sun Goddess Amaterasu.
This is the custom of Kagami mochi.  
These mirrors are made in different sizes and placed up and down. 
On January 11, we eat the Kagami-mochi as a sacred leftover of religious offerings believing that mochi would bring the spiritual power of the gods to us. 

By the way, in the Tale of Genji , we can find the first record of Kagami mochi being eaten at New Year.
The Tale of Genji was written in the very beginning of the 11th century by a female writer named Murasaki-Shikibu.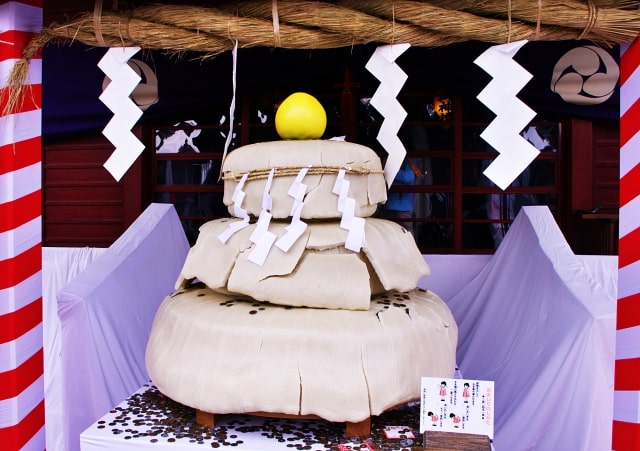 Kagami mochi
At Shinto shrines, we can find a large straw rope decorated with white papers.
We call it Shime-nawa. 
Generally, Shime-nawa is made of rice straw.
According to Shinto, Shime-nawa separates the sacred domain from the terrestrial world and drives away evil spirits.
You can also find the Shime-nawa in Sumo stadium.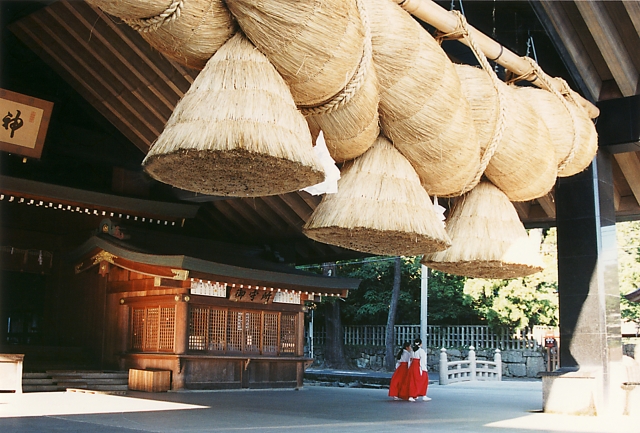 Izumo shrine located in the Shimane prefecture is famous for its huge Shime-nawa.
It measures 6.5 meters and weighs 1 ton. 
In the Kagura-den where they dedicate music and dance to the gods, you can find a larger Shime-nawa measuring 13.5 meters and weighs 4.4 tons. 
Here I'd like to introduce an interesting story which characterizes Izumo shrine.
Usually, they twist the rope from right (the upper side) to left (the lower side) to make Shime-nawa.
However, in Izumo Shrine, the manner is totally reversed. That is to say, from left to right. 
Because in Izumo Shrine, the left is the upper side. 
* Here you can see the video which introduces Izumo shirine.