variety of Green tea
Green tea mainly produced in Japan is steamed Green tea (Please refer to the Tea page).
Generally, steamed Green tea is divided into two:
1. shaded green tea (including Matcha)
2. non-shaded tea. 
In this article, I'd like to introduce the variety of Green tea by explaining characteristics of both shaded tea and non-shaded tea.

As for the variety of Japanese tea other than Green tea, visit here.
⇒Reprocessed teas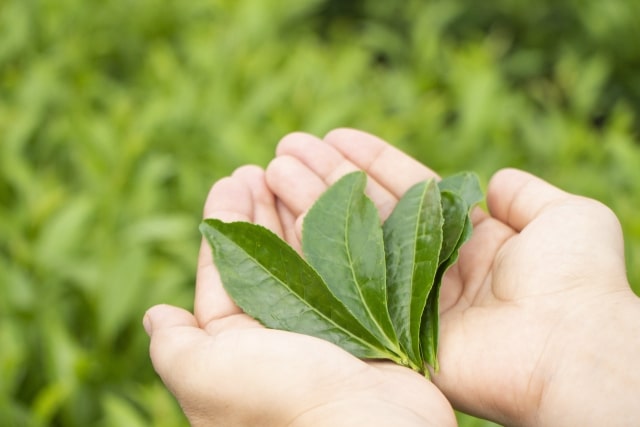 1) Gyokuro(玉露)
Gyokuro is the tea which we can enjoy umami to the maximum. 
For its richest umami, sometimes it can become the most expensive tea.
About three weeks before the spring harvest, they shade the tea plants with reed screens or shelves with straw on top.
The best way to taste Gyokuro is to steep it in low temperatures.
It also makes an excellent cold brew.
2) Kabuse-cha(かぶせ茶)
"Kabuse" means "cover" in Japanese.
About 4-10 days before the harvest, a synthetic black cloth directly covers the tea plants.
We often describe Kabuse-cha  as the tea in between Gyokuro and Sencha.
Because, it is stronger in sweetness and weaker in astringency than Sencha. 
But different from Gyokuro, we often taste Kabuse-cha by infusing in relatively high temperature.
3) Matcha(抹茶)
Matcha is a powdered green tea used in the tea ceremony.
The way to drink Matcha is a bit unique. Firstly, we pour hot water in the cup with Matcha tea powder. Then we whisk the tea quickly but gently to cover it with fine frothy bubbles. Matcha is notable for its vivid green color, strong umami, well-balanced sweetness and astringency.
Recently, it is well known as an ingredient in confections such as iced cream and becoming popular not only in Japan but also overseas.
4) Ten–cha(碾茶)
Just like Gyokuro, they shade Tencha for more than three weeks.
After steaming, they dry it in high temperature and separate hard parts (stems and veins) from leaves.
Thus, the finished tea leaves shape like fish scale.
Usually, Tencha is stored in a special pot and ground in a stone mill to turn it into green powder, that is to say, Matcha. 
As I mentioned in the page of Kuchi-kiri (tea ceemony), Ten-cha plays an important role in this tea ceremony (Chaji).

Basically, we divide non-shaded green tea into two, based on the duration of steaming. That is,
1)  ordinarily steamed green tea,
2) deep-steamed green tea.
1) Ordinarily steamed tea is what we call "Sencha" and 2) deep-steamed is "Fuka-mushi Sencha ". 
Among the Green tea consumed in Japan, almost 70% is these two Sencha.
1) Sencha(煎茶)
In 1738, Nagatani Soen invented the original processing method of Sencha and since then it has been improved until nowadays. 
Generally, its steaming time is 30 seconds. 
Sencha is a "flexible" tea and we infuse it in various ways to find different flavors. We can enjoy its natural sweetness when we steep it in cold water.
On the other hand, astringency together with bitter aroma clearly appear when we infuse it in water of high temperature.
After all, there is no correct answer in infusing Sencha.
In addition, our preferences can change depending on the season, weather, our conditions or moods.
2) Fuka-mushi Sencha
(深蒸し煎茶)
Tea plants grown in flat areas with long day light hours tend to become bitter. 
To change its bitterness into sweetness, this Fuka-mushi method was invented in the 1960's in the central Shizuoka prefecture.
Today, it is the most consumed tea in Japan.
Although the tea leaves have broken appearance, the brewed tea is sought for its thick and rich taste.
Its steaming time is generally 1-2 minutes. 
However, by steaming for a longer time, a compound in the leaves that enhances sweetness (pectin) dissolves more easily and as a result, the tea becomes milder.