Rice Terrace-Tanada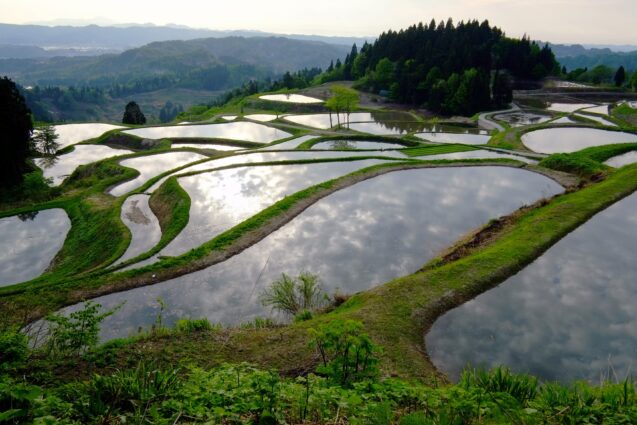 Look at the picture.
This kind of rice paddies is called "Tana-da" which literally means "rice terrace". 
As roughly 70% of the country is covered with mountains, Japanese people have to cultivate even mountain slopes or valleys.
This "Tana-da" occupies about 220,000ha across the country, which means 8% of all the rice fields. 
"Tana-da" is a heritage that unites the wisdom and efforts of our predecessors.
1. Video
Here you can see the video which introduces "Rice Terraces of Hermit" in Miyazaki prefecture. This place is also called "Machu Pikchu in Japan".
Rice Terrace Tanada (Miyazaki)
1) Kurogane-mochi
Guests can use the Japanese-style room on the first floor of the house with the scent of slyness and the loft on the second floor as bedrooms. The room leading to the loft has a bed. So it is recommended for those who are not good at futons. In the loft, there is also a small relaxing space where you can see the view from the window and the starry sky. You can also see the weeping cherry blossoms from the Japanese-style room on the 1st floor. 
Since we usually operate agriculture, we also offer seasonal agricultural experiences such as picking wild vegetables in spring, harvesting vegetables, and picking up in autumn.
In the bath, water is boiled with firewood. You can always experience chopping firewood or boiling a bath.
In addition to agriculture, my father is hunting deer, wild boars, etc., so he can also see and experience traps and hunting scenery. You can also taste game dishes using prey.
If you want dinner, you can also make and eat together using seasonal ingredients and local products harvested at home.
Breakfast, dinner and farming experience are optional.
Incidentally, there is a hiking course (about 2 hours one way) to Mt. Tansuke, the symbol of Ninogage Town. 
2) Aunsanbo
Tucked away in a mountain village, Aun-sanbō offers amazing landscapes of green rice terraces. It's so beautiful that they have been designated as one of the 100 greatest rice terraces in Japan.
It took 5 years to build this individual house, made of noble materials that were more than 100 year-old.
In the evening, you can see the Milky Way shining in the starry night sky, offering a whole different world of wonders to contemplate. Simply relax, and let the sounds of nature put you to sleep.
In the morning, wake up to the songs of the birds and gaze at the view of a sea of clouds as you enjoy breakfast.