Reprocessed Teas
In the page of variety of green tea , I talked about the classification of Steamed Green tea.
However, green tea is not all for Japanese tea.
Some of the tea leaves  (sometimes buds or stems) are reprocessed to give many varieties in Japanese tea and we call them reprocessed teas.
Tea extracted from these tea leaves is not always green.
Learning about the variety of reprocessed teas will deepen your understanding not only for Japanese tea, but also tea in general.
Therefore, I'd like to introduce the varieties and characteristics of typical reprocessed teas.
Hoji-cha is made by roasting steamed green tea.
In Japanese, 'Hoji-ru' means to roast or to fire.
As a result, You can enjoy the roasted aroma as well as its taste.
Hoji-cha tends to be light-bodied and contains little caffein.
For this reason, we often drink it before sleeping.
If you have Sencha which has already gone old, let change it into Hoji-cha by roasting it in skillet.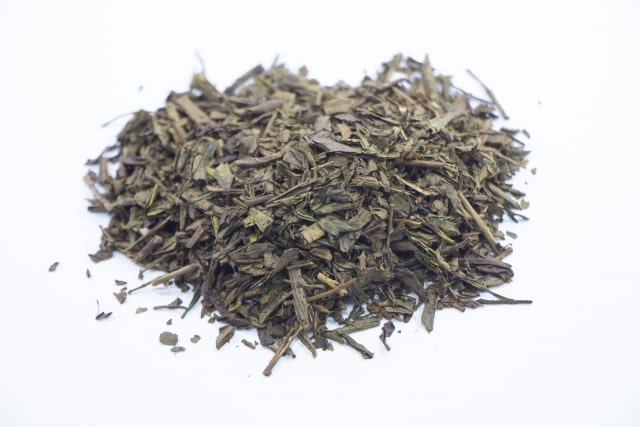 Kuki-cha is made from stems and stalks that are removed during the process of  producing and refining raw tea called Ara-cha (荒茶) in Japanese.
Among all, Kuki-cha made from the stems of Gyokuro are called "Kari-ga-ne(雁が音)" or "Sira-oré (白折)". They are the most expensive type and very popular.
Rich in theanine and weak in astringency, it can be steeped at high temperature and good to warm yourself in cold winter.
Kona-cha(粉茶)
Kona-cha is made from green tea dust sifted or fanned during the process of producing and refining raw tea called Ara-cha (荒茶).
Kona-cha is often served at Sushi restaurant to clear the palate and lower the risk of food poisoning by the behavior of catechins. 
Ban-cha(番茶)
Ban-cha is a tea hard to be defined.
In the past, Ban-cha indicated the teas among commoners, that is to say the teas other than Matcha or Sencha which were affordable only for those in higher social ranks.
As a result, the Ban-cha were made in quite different manners depending on the region or family such as boiling, cooking, roasting etc.
Nowadays it generally refers to the tea made in the same method as Sencha but using hard or old leaves.