Red beans
Although the origin of Red Beans is still  undetermined, there is no doubt that Japanese people have cultivated them from ancient times.
The oldest remains in Japan which leave a mark of red beans can date back to 4000 B.C..
Thus, as well as soybeans, red beans have played a very important role in Japanese food culture.
The word for red beans in Japanese is 小豆 and its reading is "azuki".
To learn Kanji (Chinese characters) is always interesting and beneficial to understand what the word means.
Through Kanji, we can virtually grasp not only the meaning of the word, but also the background it was born in.
Therefore I'm going to introduce Kanji as often as possible. 
Kanji for red bean is 小豆  which literally means "small bean".

According to the most supported theory, 小 has its origin in the form of three small grains.
To tell the truth, I cannot understand why three small grains indicate "small". I guess there must have been some other stories involved. 
Anyway, as well as 大, it has a simple appearance and you can memorize it relatively easily (I hope so).
If you are interested in the Kanji of Soybean (大豆), visit here
⇒Kanji – soybean

Next is 豆.
According to the most supported theory, 豆 indicates a sacred container used to dedicate agricultural products to gods.
We generally read 豆 as "Ma-mé".
In the Japanese Kanji world, each character has multiple pronunciations.
Therefore, 小has four pronunciations : 1) shou,  2)ko, 3)o, 4)chii.
On the other hand, 豆 has three pronunciations : 1) ma-mé, 2)zu, 3) to(u). 
No doubt, this system makes Japanese language extraordinarily difficult.
Why? 小豆 is Azuki?
You may wondering why 小豆 is pronounced as Azuki.
If you have noticed this point, you are very intelligent.
Even if Japanese Kanji have multiple readings, normal rules cannot allow us to read 小豆 as Azuki.
The probable reason for this exception is something like below.
The word Azuki had existed in Japanese society long before the Kanji was given.
Later, the Kanji 小豆 was chosen to describe its small appearance and these two combined each other before one recognized it.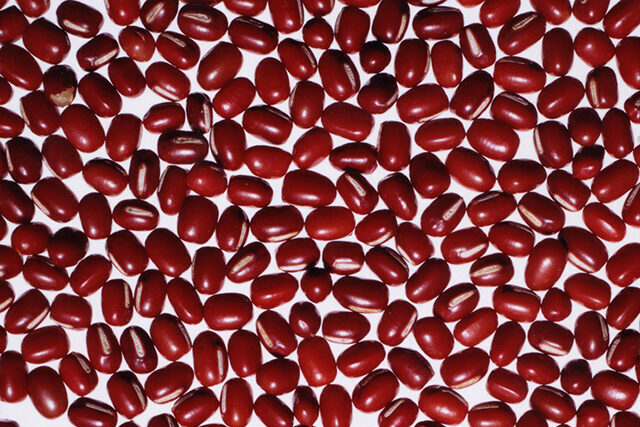 As the Kanji shows, each bean is smaller than that of soybean.
Although red bean is small, it is enormously nutritious.
It contains not only protein but also
– vitamin B1 and B2
– potassium
– dietary fiber
– mineral.
In addition, we cannot forget anthocyanin (a kind of polyphenol) which is the origin of the red color.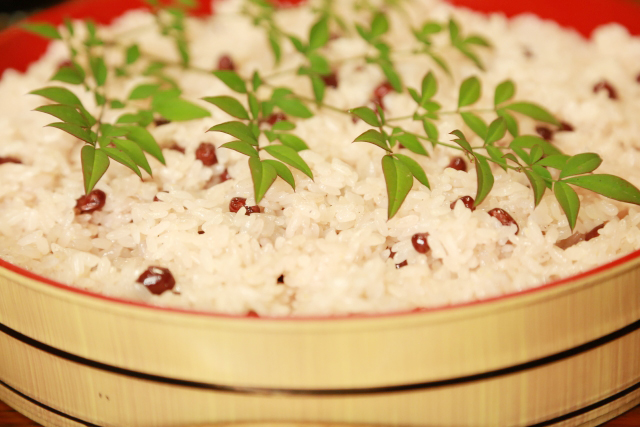 Red is a symbol of the the Sun, life and vigor.
Since antiquity, it is widely believed that the color red has a mythical power to drive away misfortune. 
In the 17th century, we began to cook rice with red beans in celebrations.
This rice is called "Sekihan" (literally "red steamed rice"). Because the anthocyanin in azuki adds a red color to rice.
Even today, we often offer Sekihan to relatives and neighbors in celebrations.
We believe that we share the blessings by sharing Sekihan.
By sharing blessings, we can multiply them.
Cooking Sekihan in clay pot
As well as ordinary rice, we can cook Sekihan in a clay pot.
The point is that we prepare Red beans in advance to get the red broth from Red beans. This broth turns the color of rice from white to red. 
In this recipe, we use both sticky rice and ordinary rice. 
<Ingredients (For 4 people)>
a) sticky rice (300 g)
b) ordinary white rice (150 g)
c) red beans (50 g)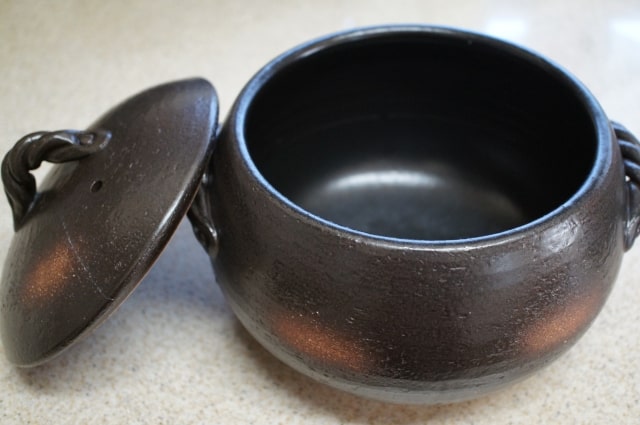 Clay pot
<Preparation of Red beans>
(p-1) Rinse c) red beans with water, put them in a pan with plenty of water, and heat them over high heat.
        Keep it boiling for about 5 minutes.
(p-2) Put 600 ml of water in (p-1) and heat.
        When it boils, reduce the heat to low and cook the red beans.
(p-3) Take out the red beans from the pan and wrap them so as not to dry them.
(p-4) Leave the broth in the pan and cool it down. 
<How to cook red rice>
(1) After washing b) sticky rice and c) white rice 3-4 times together,
(2) raise it in a colander and drain it well.
(3) Weigh 540 ml of cold broth (above (p-4)). Add water if it's not enough.
(4) Put it in a clay pot with the washed rice (above (1)).
(5) Leave it for 1 hour.
(6) After 1 hour, sprinkle the boiled red beans in a clay pot.
(7) Place the pot on medium high heat 
(8) When steam comes out vigorously from the hole in the lid, reduce the heat to extremely low and cook it for another 8 minutes
(9) After 8 minutes, turn off the heat and leave it for 15-20 minutes with the lid on.
(10) After 15-20 minutes, mix the whole from the bottom of the pot and eliminate excess fluid.
2) Anko(sweet red bean paste)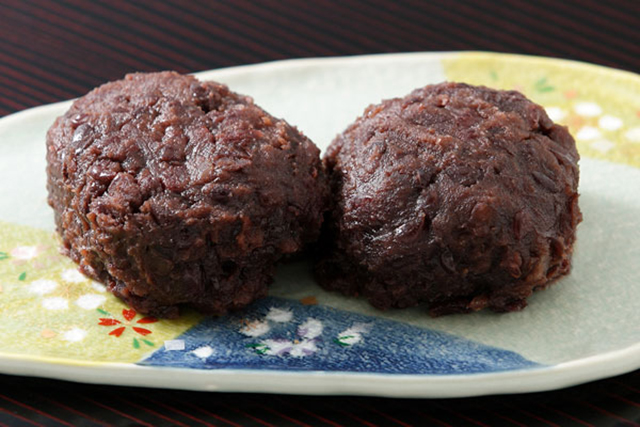 In Japan, red bean reminds us immediately of Anko, sweet red paste widely used in Japanese confectionery.
This Anko paste is an ideal food to activate the brain which consumes only glucose as energy.
To decompose sugar to glucose, vitamin B1 which is abundantly contained in red beans is indispensable. 
Thus Anko which offers sugar and vitamin B1 at the same time can make our brain vigorous in a few moments.