Japanese tea cultivar
In this page, I'd like to talk about a Japanese tea cultivar named Yabukita.
The followings are the 4 taste elements which compose Japanese tea:
1) umami
2) sweetness (amami)
3) bitterness (nigami)
4) astringency (shibumi).

Many people don't doubt that Yabukita is the tea cultivar that has the best balance of these 4 taste elements.
1.Tea Cultivar
To understand the story of the tea cultivar, firstly, we must understand that the tea plant is not self-pollinating.
If the tea plants are propagated by seeds, the result is natural cross pollination.
As a consequence, the leaves of individual plants can be different in the color and the shape. Moreover, every single plant has its own distinct taste and flavor.   
On the other hand, tea cultivars are all clones propagated by cuttings.
As a consequence, they glow almost evenly to make perfect hedges and their leaves are quite similar. These facts ensure the taste and aroma to be very clear and refined.
Nowadays, Japanese tea cultivars cover about 98 % of  all tea plantations in Japan and surprisingly Yabukita occupies more than 75% of them.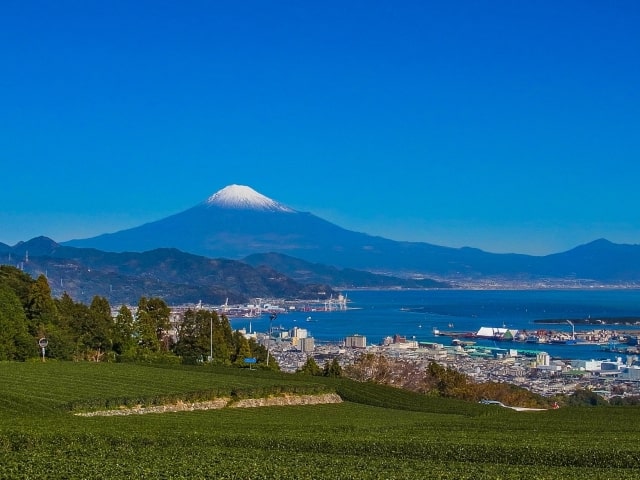 2. Yabukita
In 1908, a Japanese tea cultivar, Yabukita, was established.
Hikosaburo Sugiyama singled it out by selecting good quality plants in Shizuoka prefecture and cloning them.
Since then, the number of tea farms which plant Yabukita has rapidly increased and now it occupies more than 75% of the tea plantation.
Yabukita also has a beautiful appearance and carries a sweet aroma just like mists from Japanese mountains.
Thanks to Yabukita, the quantity of tea harvest as well as its quality has dramatically grown. 
But this uniformity has brought some problems:
– the lack of variation in taste and aroma,
– the lack of workforces during the harvest time (overlapping of peak harvest time).
Nowadays, the movements to invent new cultivars and establish Single estate Japanese teas are becoming more active. Single estate teas enable us to enjoy the taste and flavor peculiar to the chosen cultivars just like single vineyard wine. 
But it is noticeable that many of them are made by mixing other cultivars with Yabukita.
Yabukita has served as a standard for Japanese tea.