History (Soy sauce)
Are you interested in history (Soy sauce) which is called Shoyu in Japan ?
Do you want to know its origin ?
In Japan, seasonings have been made through salting and fermentation since ancient times, using herbs, cereals, and fish. 
As long as they are  fermented seasonings, it is possible to regard them as its origin. 
However, it is always difficult to decide the exact origin of something.
Today, the story widely accepted is that soy sauce (Shoyu) was born in the 14th century.
According to this story, It was a by-product of Miso.
That is to say, it was juice accumulated in Miso barrels.
People in those days found that this juice had a very delicate flavor and started to use them as a new seasoning.
To tell the truth, the same kind of soy sauce is still produced and popular.
It's what we call, "Tamari " (literally, the accumulated shoyu).
Koikuchi (濃口) 
At the beginning of the 17th century, Edo (today's Tokyo) became a center of politics and its population began to increase.
As you can see even today, Edo (Tokyo) faces the sea and people there ate a lot of fish.
Although fish is tasty and healthy, we can not deny that it smells.
To mask the smell of fish, they began to use strong soy sauce invented in the suburbs of Edo (Kanto).
This is a well known birth story of Koikuchi (濃口) .
It is after the invention of soy sauce that Sashimi became popular among wealthy people.
But commoners had to wait until the end of the second world war to get free access to this tasty plate. The modern refrigeration and transport system made their dream realise.
Usukuchi (淡口) 
However, there was a weak point in this Koi-kuchi.
That is, its dark color. 
It can spoil the delicate colors of the cuisine.
To overcome this problem, light-colored soy sauce was born in the western region (Kansai).
This is a birth story of Usukuchi (淡口) . 
Since then, the difference between the Kansai (West) and the Kanto (East), especially in food culture, has become more and more clear. 
For the stories about the difference between them, visit here
⇒Kansai and Kanto
Kanji 
To learn Kanji (Chinese characters) is always interesting and beneficial to understand what the word means.
Through Kanji, we can virtually grasp not only the meaning of the word, but also the background it was born in.
Therefore I'm going to introduce Kanji as often as possible. 
* 口 kuchi means mouth.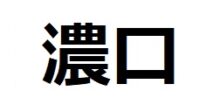 Koikuchi (Kanto)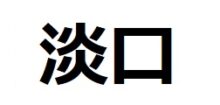 Usukuchi (Kansai)