History (Miso)
Are you interested in history (Miso)?
Do you want to know its origin?
In Japan, seasonings have been made through salting and fermentation since ancient times and it is possible to regard them as the origin of Japanese Miso.
However, today, the story widely accepted is that it came from China in the 6-7th century.
Only the high class aristocrats had access to this valuable seasoning.
Thus it's from the period of Samurai that it came to vividly appear in Japanese history.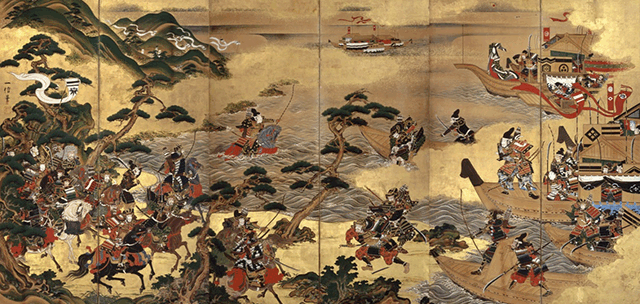 the military class (Samurai) began to take power and finally established their own government (Shogunate) in Kamakura (today's Kanagawa prefecture).
The reason why they fight was quite simple: In order to protect their fields.
Because most of the samurais were farmers and the fields were the source of their livelihood.
Thus they had to work in two fields: battlefields and real fields.
Since both of them require a huge amount of energy, it was quite natural that samurais yearned for very nutritional foods, that is to say, rice and Miso soup.  More concretely, they poured Miso soup on a bowl of rice. 
From this fact we can understand that Samurais were familiar with its eminent effect of to health and power.
soybean production increased more and more. As a result, Miso became more and more popular.
People from other than Samurai class began to make their own homemade Miso in this period.
during the civil war period, Miso attracted more and more Samurai  for its high nutritional value. 
Sometimes they used it in unique styles.
For example, they braided long potato stems and  simmered them with Miso soup to bring them to military expeditions.
At first, these stems served as ropes to support luggage.
Then they cut it and put it into a cauldron to make soup. The stems themselves served as ingredients for the soup.
Among Samurais, the most famous Miso lovers are Takeda Shingen, Date Masamune, Tokugawa Ieyasu, who were all successful warlords. 
If you are interested in their stories, visit here
⇒ Samurai and Miso
In the Edo period (17-19th century),
Miso became widespread among commoners and people began to make it in their family all over Japan.
Always, necessity is the mother of invention.
They kept on making Miso even in the lack of the ideal ingredients.
As a result, various types were born and spread among various social classes.